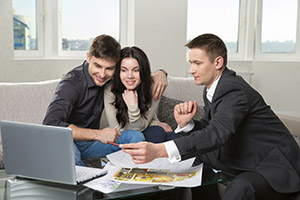 The mortgage process has evolved immensely since the mortgage crisis in 2008. Many layers of fact checking have been added to ensure that indeed each borrower is prepared to make the life changing decision of purchasing a home.
To make sure you're ready for what the process entails, here are the 5 major milestones of the loan process.
Pre-Approval Letter.

This is the first crucial step of the process. Make sure you receive a pre-approval letter prior to starting your house hunt. This is important because it allows you to better understand the value of home you can afford. It is also needed in order to make an offer on a house. In today's competitive buying market you'll want to make sure you're prepared to make an offer as soon as you find the house that's perfect for you.

Full Application.

This step occurs when you have an official acceptance from the seller on the home you are hoping to purchase. At this point in the process, your loan officer will ask for A LOT of documents. That request also often includes credit inquiries or issues on your credit report and deposits that appear on bank statements over $1,000 will require source documentation.

Loan Submitted to Processing.

Your loan officer will have the mortgage processor review the entire package. Then the processor will order the following things:
A title examination
An appraisal
A condominium questionnaire (if applicable)
Underwriting review:
This is where additional documentation may be required. The underwriter is there to give all of the documents a final review and if there are questions that arise they may ask for additional conditions.
Clear to close:
Once you get final approval from underwriting, your loan is ready to close! At this point the final loan documents are sent to the title company you're working with and you'll schedule a time to come in and sign all documentation. Unfortunately, you most likely will have to wait an additional 24 to 72 hours for the deed to be recorded, but then you will get your keys!
This process often seems overwhelming, especially for first time home buyers. But if you're working with a skilled team it doesn't have to be.
This is a general overview of the mortgage process and does not account for delays that may occur for any reason. Individual experience may vary.
Contact Rebecca Ross
mortgage loan process HI, mortgage loan process Maui/San Diego, HI mortgage loan process, Maui/San Diego mortgage loan process