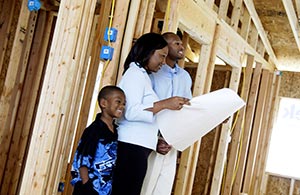 Congratulations! You've made the first step in the home buying process… You've decided you are ready to make the leap and purchase a home. Now comes all of the other decisions that will eventually make or break your purchase.
One of the most important choices you'll make is what real estate team and mortgage lender to work with. Having the right industry experts on your side could make the world of difference.
Not sure what to do first? Whether you're a first time home buyer, relocating to a new area, or a move-up buyer, following these easy steps can help make the process go smoothly.
Work with your lender to figure out how much you can afford, what loan program is right for you, and get pre-approved.

There are many options to consider so it's best to speak to a reliable lender as soon as possible.

Write down a list of must haves and a wish list for your new home.

Someone is yet to find the perfect home on a budget. Going into your house hunt with a list of must haves versus nice to haves is vital to keep you focused.

Start house hunting with your agent.

Now for the fun part! There is no limit to the amount of houses you can view so hit the ground running and start touring away.

Research Homeowners Insurance.

Your lender will require the name of the company providing you with homeowners insurance prior to closing. While you continue looking at houses it could be beneficial to start getting quotes from a few different agencies.

Put in an offer.

Once you found the home that is right for you, work with your real estate agent to find just the right number that you feel comfortable with offering.

Review the paperwork and make sure all documents are submitted on time. If you need help getting organized I have put together this Mortgage Checklist you can download.

Once the seller accepts your offer you'll want to ensure all of the documents your lender requested are sent in at a timely manner in order to guarantee a sensible closing.

Sign the papers!

Make sure to bring a photo id to the signing and be prepared to sign A LOT of paperwork. But don't worry it will all be worth it once you finally get your shiny new keys to your new home!
If you're ready to make the jump and purchase a home in Maui/San Diego, reach out today and let's get this process started!
[mform id="4″ title="Start Your Loan"]
Contact Rebecca Ross
steps to buying a house HI, steps to buying a house Maui/San Diego, HI buying a house, Maui/San Diego buying a house