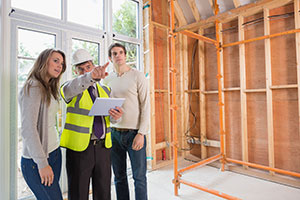 The thought of buying a fixer-upper and turning it into the home of your dreams can sound perfect to some buyers - every inch of the house will be to your specifications! However, often times buyers discover this concept can be more costly than they think. That's where an FHA 203k loan becomes very beneficial.
An FHA 203k loan is a product backed by the federal government and given to buyers who want to buy a damaged or older home in need of repairs. If you're considering purchasing a home that needs a full renovations of a kitchen, bathroom or another area in the house an FHA 203k lender would then give you the money to finance the house plus factor those renovation charges into the loan transaction.
Sounds a little complicated right? It actually doesn't have to be. It is just one loan, one closing and one payment for both the mortgage purchase and the funds needed for improvements. Homebuyers looking to take advantage of a low price home in need of renovations, home buyers hoping to expand or update a property to meet their needs, and current home owners wanting to make improvements to meet their family's needs all could benefit from this program.
This program could open up a lot more possibilities when you start your home search. Don't hesitate to call (808) 250-6482 and see how much you could qualify for!
Contact Rebecca Ross
203k loan HI, 203k loan Maui/San Diego, HI 203k loan, Maui/San Diego 203k loan